I am trying to configure Eramba so that I can use it without my user account being in the special Admin group. My goal is to have a user account for myself and a few others that basically have access to everything. I have watched the videos and read documentation about users, groups, and authorization. It all makes sense, but I am having trouble in practice.
I created several compliance packages populated with prebuilt compliance items from NIST. Along with these, I have begun authoring a compliance package from scratch representing security policy items required by our parent organization. So far this custom package contains a single compliance package item. These I assigned ownership to an "IT Staff" group as shown in the image below.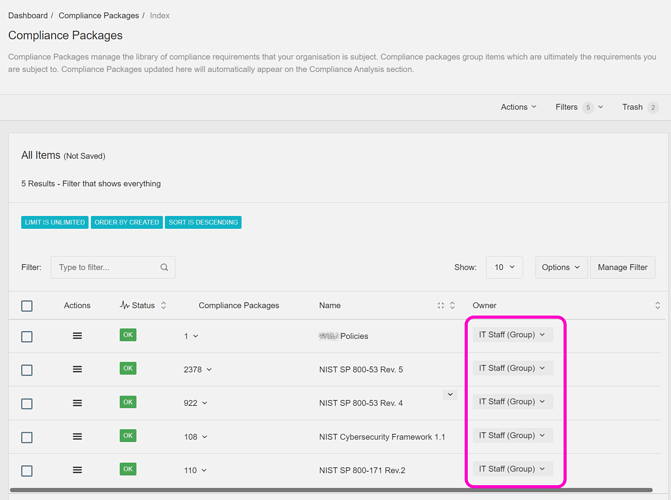 When I sign in to my non-Admin user, I can see all 5 compliance packages as expected. The screenshot above was taken while signed into this user.
My problem is that my custom compliance package does not show within Compliance Analysis unless I am signed in as an Admin. In the screenshot below you can see that my custom policy package does not appear within available filters.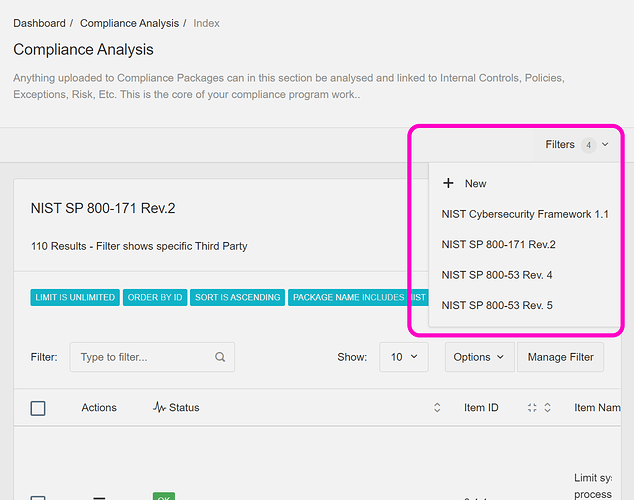 What permissions might my user account lack such that it can see a compliance package under "Dashboard → Compliance Packages" but then not see it under "Dashboard → Compliance Analysis"?