I am a bit confused when trying to make a new status indicator. This is in the Security Policies module.
In addition to the green and amber system tags (OK and REVIEW EXPIRED), I just wanted to make one extra tag for myself - 'REVIEW DUE THIS MONTH'.
Here are the conditions I have set so far: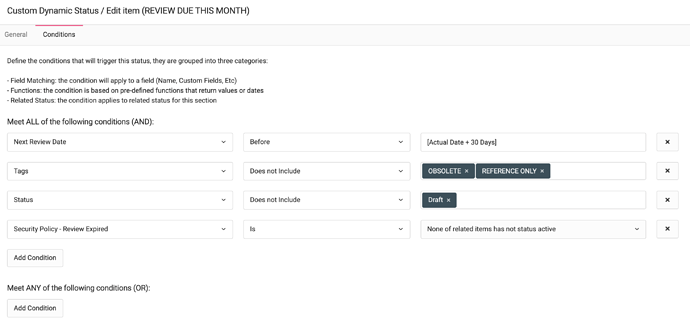 The 'tags' and 'status' conditions are just to filter out some types of policies I am not interested in.
The main condition is 'Next Review Date - Before - Actual Date + 30 days'
That works fine for turning the condition on.
But I also wanted to exclude it from items that already have an amber system-defined 'Review Expired' condition (as my custom condition is superfluous then).
I expected I could simply create a condition along the lines of
" Security Policy - Review Expired. is NOT . active" ?
But the two choices I get in the dialog are either:
" Security Policy - Review Expired. IS . None of related item has not status active"
or
" Security Policy - Review Expired. IS . At least one of the related items has status active"
Neither of these do what I want…
(indeed the first one seems to be a double negative…1)
Maybe I would be better just making a custom filter to show these permutations.
But I thought I would like the simplicity of have a more-or-less All Items filter with just these three coloured statuses ( OK > REVIEW DUE IN ONE MONTH > REVIEW EXPIRED)